No-code is an increasingly hot topic. What does it actually mean? For whom is it useful? What are the top benefits of no-code compared to coding and are there potential drawbacks to it? In this article, we'll tell you everything you need to know.
Table of contents
What Is No-code?
No-code is a term used to describe the process of building software applications without writing code. This can be done using a variety of no-code platforms, which provide drag-and-drop tools or visual programming that allow users to create software without writing code.
Typical no-code platforms…
allow users to create and deploy applications without writing any code
provide a visual drag-and-drop interface for building applications
can be used to create a wide variety of applications, including web applications or native mobile apps
No-code allows people to build websites and applications by themselves without technical knowledge. They don't need to learn how to code and become a software developer. Therefore, it inherently changes the game for non-technical folks.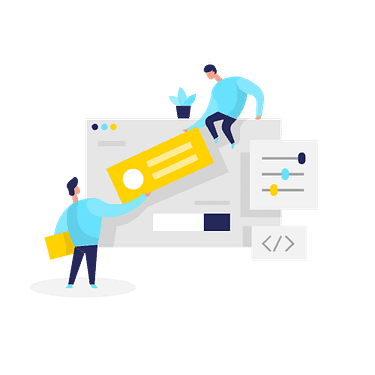 No-code can also aid programmers to develop software through intuitive visual editors or drag-and-drop configurations. It enables them to quickly spin up applications or workflows without relying on any form of coding.
Considering how important it is for businesses to have an online presence and other digital capabilities, this can play an essential role in the growth and success of companies. This is especially true for areas such as digital marketing, customer service, sales, and many more functions as they are not dependent on their tech counterparts.
Let's now discuss the top benefits of no-code to help you understand what's so exciting about this technology, and why so many companies are getting involved.
The Top Benefits Of No-code
1. Cost Reduction
Programming is a field that is constantly evolving and is highly in demand. This raises the prices you can expect to pay for software development services: Website building, web & mobile application development, workflow automation, testing, or maintenance.
With the help of a no-code platform, you can expect to save a lot of money involving these services. For instance, development processes will be much more affordable, maintenance expenses will be lower, and future improvements will be much easier to implement. This is thanks to a platform's easy-to-use interface which can be done in-house by non-technical folks, greatly reducing production costs.
Considering how frequently small and new companies implement changes to their online presence or product, this is an essential benefit to have in mind since it enables them to be fast and iterate when market conditions or customer demands change.
2. Greater Accessibility and Flexibility
One of the great things about no-code is its simplicity. Anyone familiar with technology to a certain degree will be more than capable of understanding development processes and creating applications, websites, and other digital products.
👉 Check out our tutorial on how to build apps using no-code.
On the same note, flexibility is another advantage to consider, as companies will be able to start developing applications or websites as soon as an idea is born. This is great for startups that need to validate assumptions about their product and addressable market and make changes as soon as they learn something new.
3. Faster Development Times
With greater accessibility and flexibility comes much faster development times, enabling companies to launch and market their products much more quickly.
No-code enables people to work on a product without the usual complications or dependencies when working with software developers in a traditional setup – Gathering business requirements, briefing the developers, and constant alignment & reviews before a product can be launched.
This is especially true if a company uses outsourced development agencies instead of in-house developers. In a no-code setup, you don't need software engineers at all or at least they're able to ship much quicker without the complex software architecture in the background.
4. Exploration and Validation of Ideas
A critical aspect of young businesses is exploring and validating ideas. Understanding target customers and their needs based on research is a good first step. With no-code, you can nicely complement those discovery findings.
This allows companies to get into a customer-driven mode way faster – Bringing new features in front of potential users and validating them to see which ones are worth exploring further and improving. This can also help with securing startup funding as venture capital firms appreciate early product-market-fit (PMF). PMF means that a company has found a product that is valuable and useful for its target customer segment in a profitable manner.
5. Straightforward Collaboration Between Staff
Another thing to consider is that companies oftentimes have several teams working together to achieve their goals. One of the main problems is how difficult it is for teams to collaborate, mainly because of the inherent complexity of software development.
Imagine the marketing team needs a new landing page and is dependent on the engineering team. That is a similar situation as working with an outsourced agency including the same challenges outlined above.
With no code, this barrier is greatly reduced. It is much more manageable for teams to work together to generate ideas and come up with solutions to problems, which can be applied immediately. In the marketing example, the team could simply take on the task themselves. They would only need basic drag-and-drop skills if they use a CMS such as WordPress.
Disadvantages Of No-code
There are certainly some drawbacks to no-code solutions that are imperative to understand. For instance, most no-code tools charge subscription fees for their services. Those can quickly accumulate when a company starts to use different services and integrates them.
Ideally, a company should only pay for services that provide value, but this can be difficult to determine for small or new companies. Thankfully, as a business grows, it becomes more mature and knowledgable, making it much easier to assess which services are a must and which are not. For example, having a website is non-negotiable so the investment in a no-code website builder subscription is an absolute must-have.
Another thing to consider is the lack of customization within no-code platforms. Most no-code builders satisfy general needs faced by most businesses such as user registration, e-commerce, and payments. However, while most tools index on simplicity, this comes at the price of lacking complex logic, sophisticated workflows, and generally business-specific demands.
For most companies, this might not be a real problem at first when they want to launch an MVP and start out. But, for more mature companies and enterprises wanting to introduce complex features to their products, it can become a problem in the future.
Lastly, there's the challenge of scalability. Many no-code platforms have difficulties dealing with exponential growth as they host and run many products on their platform. If one of them grows quickly in terms of user size and engagement, the platform needs to scale up its servers to handle the load.
Managing that with your own cloud infrastructure is almost always a better choice as it provides more control and autonomy. When you run a no-code product, you are reliant on the platform provider to handle it for you.
Thus, having growth in mind early on when developing a product can save you a lot of headaches and complications later on.
Although these drawbacks can cause severe problems in the future, it is still possible to deal with them as long as you are prepared. Don't expect to run your company solely on no-code forever. You are probably better off switching to a coded product at some point. But until you reach that point, no-code platforms are a game-changer to get started and accelerate your business.